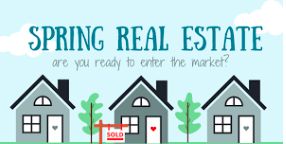 Just a quick note to say hello and give you a brief update
on the current Spring Market for 2018.
Since we moved the clocks ahead for daylight savings, the days are beginning to lengthen, one can't help but think about the coming of warmer weather, and all the changes it will bring.
One of the more certain aspects of Spring Market is an increase in Real Estate activity and dealing with the new Ontario's Fair Housing Plan in April and FSCO'S B20 Stress Test for mortgage approvals. Whether we agree or disagree with these changes, we have to deal with the effects their having on our home buying and selling decisions. Rising mortgage rates are adding to the effect of these changes as well.
In both my real estate and mortgage business I am seeing the stress that buyers and sellers are feeling and the questions they have. Buyers are asking should they put their purchase on hold and wait for home prices to drop vs Sellers asking what is the value of our home in today's market? Will my home Sell? When is the right time to Sell? We have the answers!
During my past 24 years in Real Estate, we have experienced many different markets and in my opinion the 2018 Spring Market has it's challenges, but if we remain calm and analyze the market. The positives are that we are in a more stable market - fewer multiple offers - conditional offers being accepted to purchase homes and more stable market values. Future interest rate increases I believe are key to making a sound decision to whether you buy or sell.
If you are thinking about Selling your current home and Buying a new home or Investment property, call us today for a
We have 24 yrs of Experience and are ready to go to work for you!
Call Jim Stanton and Associates Today!
call 905-434-2022 or text 905-409-9967
#DurhamRealEstate ,#OshawaRealEstate ,#JimStantonRealtor, #JSA , #JimStantonandAssociates #1stTiimeBuyers #IncomeProperty #Investors #BenStantonRealtor ,#JimStantonRealtor.com , #BunalowDen
#WhitbySaleStats #WhitbyRealEstate #WhitbyRealEstateStats #MyFallingbrook #WhitbyLuxuryHomes , #WhitbyRealEstate , #HomeValues #WhitbyHomeValues , #OshawaHomeValues , #AjaxHomeValues, #StressTest
#B20StressTest #AffordableHousingPlan